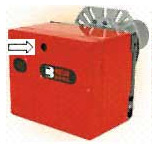 My heat won't come on. What should I do before calling Kingston's?
There are 5 steps you should take before you call for service.
Check the heating system switches. There are frequently two in the home with one located at the top of the stairs leading to the basement and the other near the heating unit. These switches are often red and should both be in the on position.
Check the oil tank and make sure there is enough fuel in the tank.
Go to the thermostat in the home and make sure it is set above the room temperature and the switch is set to "heat".
Check the fuses or circuit breaker assigned to your heating system and make sure it is not tripped into the "off" position.
If nothing is wrong in steps 1-4, press the reset button on the burner relay ONLY ONCE. We have included a diagram showing where the reset button is on many units. If you cannot find the reset button, call us and we will help you.
If the unit comes on and stays on, you're probably okay. If it comes on for about 90 seconds and then quits, or if it doesn't come on at all, call us and we will schedule a service call with one of our technicians.